THERION + GRAVE DIGGER
23.01.2007 THERION + GRAVE DIGGER @ Elysée Montmartre, Paris, France


First show of the new year and what a show !
GRAVE DIGGER played their first show in Paris for the very first time in the lap of their 27 year career !
Despite of a fresh audience, they did rock the place in support of their latest release "Liberty or Death".
THERION was the most awaited band of the evening. Their new line-up featuring Mats Leven on vocals is very impressive and his voice led the band to a new level of top quality music. Most of their anthems were played and well balanced with the newest tracks from "Gothic Kabbalah".
We had a blast and we definitely want more !!!
See U Next Year ?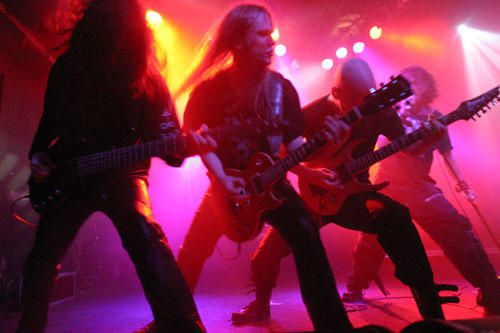 Setlist THERION
01. Der Mitternachtslöwe
02. Schwarzalbenheim
03. Blood of Kingu
04. The Khlisti Evangelisti
05. Wine Of Aluqah
06. An Arrow From The Sun
07. The Perennial Sophia
08. Son Of The Sun
09. Birth Of Venus Illegitima
10. T.O.F. - The Trinity
11. Son Of The Slaves Of Time
12. The Rise Of Sodom And Gomorrah
13. Tuna 1613
14. Ginnungagap
15. Grand Finale
16. Lemuria
17. To Mega Therion
Setlist GRAVE DIGGER
01. Liberty Of Death
02. The Dark Of The Sun
03. Excalibur
04. Valhalla
05. Lionheart
06. Raven
07. The Roundtable
08. Highland Tears
09. Morgane Lefay
10. Silent Revolution
11. Knights Of The Cross
12. Rebellion (The Clans Are Marching)
13. The Last Supper
14. Heavy Metal Breakdown